Considering a kitchen remodel but want to keep costs low? Here are some of today's kitchen remodeling trends for Frederick homeowners that emphasize options and high-tech features at affordable prices.
Trend #1: Remodeling scales back
A new focus on moderation and value has entered the remodeling mind-set. Trends that are showing up in kitchens lately include:
Repairing existing appliances instead of replacing them. More homeowners are extending their life with good maintenance and care. When replacing cabinets, they're more likely to build around current appliances rather than choosing new models.
Scaling back cabinetry purchases, with an increased emphasis on kitchen storage and functionality over elaborate decoration. For example, rather than stacked crown moldings throughout the kitchen, more homeowners are putting their money into practical roll-out trays and drawer organizers. Function trumps appearance in today's kitchens, but that doesn't mean it has to look inferior.
Small-scale kitchen projects are big news. Changing out cabinet hardware, replacing a faucet, and refacing your cabinets upgrades your kitchen without major expense. As more homes today have some form of open floor plan, kitchens are outfitted to flow with the other living areas nearby. This includes light fixtures and window treatments, as well as the small details like oven mitts and tea towels.
Trend #2: Simpler, warmer styles are popular
Fussiness and excess have faded away in favor of pared-back looks that present a more timeless, value-conscious style.
Cabinet decoration continues to streamline. For example, massive corbels, once fashionable as undercounter supports, are giving way to sleeker countertop supports and cantelivered countertop edges. Stacked moldings have pared back or disappeared entirely. Elaborately glazed finishes have yielded to simpler paints and stains. Bottom cabinets or islands are often a different color that upper cabinets, but in a toned down matte finish.
Kitchen finishes have gotten warmer and darker, and feature natural and stained woods. Walnut especially is growing in popularity. Although stainless-steel appliances are still popular, various other metals with toned down finishes are becoming popular.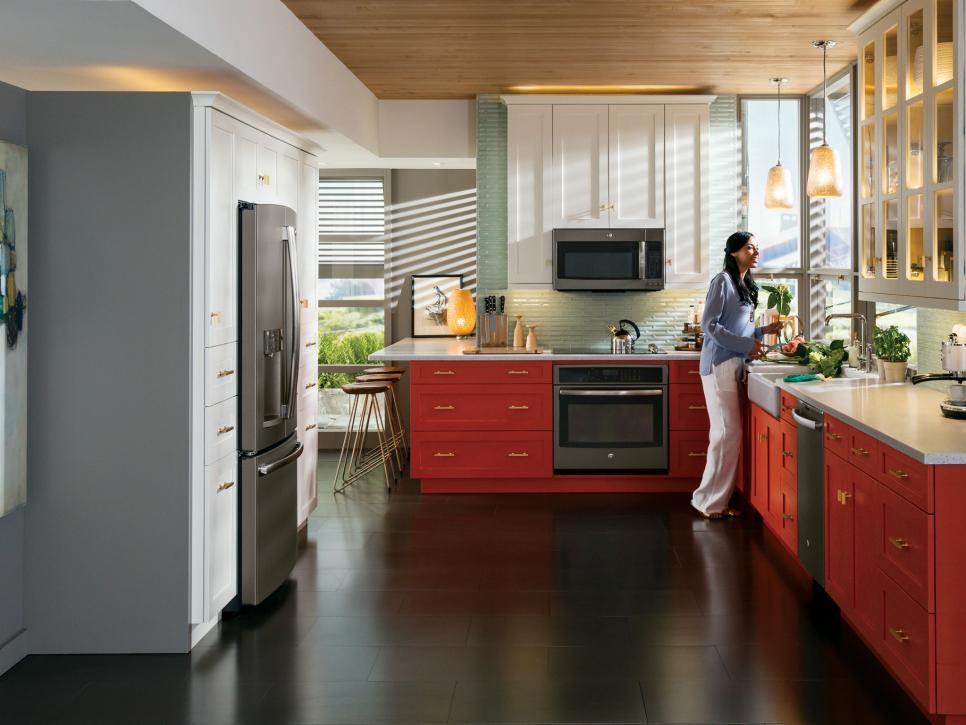 Related: 12 Hot Kitchen Appliance Trends
Laminate countertops are making a comeback, especially in contemporary design. The latest European-inspired laminates don't look at all like your grandmother's laminate, and offer more textured and naturalistic finishes than ever before. While exotic wood kitchen cabinets are out of reach for most home owners, look-alike laminate versions can be had for about one-third the price.
Trend #3: Technology expands its kitchen presence
Many of the techno products and trends that relate to your smartphones and tablets are not only making their way into your local showrooms and home centers, they are an everyday occurrence in homes we show.
Appliances are equipped with USB ports and digital screens so you can display your family photographs and kids' artwork.
Smart, induction built-in cooktops ($500-$3,000) remember your temperature settings as you move your pans across their entire surface.
One light finger touch is all it takes to open the electronically controlled sliding doors of your kitchen cabinets — a boon to people with limited mobility. You'll pay 40% to 70% more for cabinets with electronically controlled doors than standard models.
Use your smart phones and tablets to control lights and appliance settings from anywhere you have a wi-fi connection. Shop for appliances from major manufacturers right from your device.
Many are opting for LEDs for recessed lights, under-cabinet task lighting and color-changing accent lighting. We see more LED-powered pendants and chandeliers from major manufacturers as inefficient incandescent bulbs continue their march toward extinction.
A wide selection of affordable microwave ovens with convection and even steam features gives owners of smaller kitchen spaces more high-end cooking power.
---
Kitchen Remodeling Trends for Frederick Homeowners, re-published with permission from RIS Media.
Find Out What Your Frederick Home is Worth
The Highland Group
eXp Realty
Frederick, Md 21701
301-401-5119