Is Stainless Steel Still Popular in Kitchen Appliances?
Stainless Steel appliances have been a long-lasting trend in home appliance choices. For more than 2 decades homeowners have loved appliances and fixtures in stainless. But will the trend continue? Are stainless steel appliances still popular, and more importantly, will they be popular in the future?
---
Update 2023: 
While shopping for a dishwasher recently, my husband and I wanted to continue with black appliances because our stove and refrigerator are black. We had a hard time finding black. Two sales people told us the same thing: Since supply chains are still tight, most manufacturers are using parts to build stainless steel appliances, because they are the most popular and in-demand. Good to know. Not only are they most popular…they might be your only choice.
BTW, we did find a black dishwasher. All of the Memorial Day sales, however, were only on stainless-steel appliances, so we had to pay full price. There were also several brands that offered "matte black", which is a dark charcoal finish. Manufacturers seem to think it is also popular.
---
We're seeing a wave of new finishes that rival stainless in their appeal. Here are a few that have been trending last year. But first, there are two housing design trends that are setting the stage, Integrated kitchens in open floor plans, and Personalization
A. Integrated Kitchens
House plans have increasingly opened up over the recent years, allowing the kitchen to be integrated into the other living spaces. Modern cooks prefer to be part of the party, rather than be shut away behind the walls of a separated kitchen.
What this has done for the décor of the kitchen is to integrate it with the rest of the home. Now we see many different choices in appliances, from colored refrigerators and stoves to a variety of metals and finishes.
According to a recent kitchen trends study from Houzz, nearly two-thirds of homeowners in the survey spent more than three hours in their kitchens. Kitchens are now places to watch TV, entertain and read, as well as cook and bake. Today's kitchens are styled and furnished with the rest of the living spaces of the house in mind.
Please note that this article contains affiliate links, and you can read my full disclosure at the bottom of the page.
B. Personalization in the Kitchen
As kitchens open up to more of the living spaces, they are more stylish, less utilitarian. Homeowners are personalizing kitchens with bold appliances, cozy seating, stone surfaces, and more decorative fixtures — from sculptural faucets to interesting or artistic pendant lights.
As kitchens become more and more our casual living spaces, homeowners are making them more comfortable. Personalizing the kitchen adds to the comfort of the room. Comfortable upholstered chairs, cozy reading nooks, and even a small couch are right at home in today's kitchen.
What's more, with so much variety out there – it's never been easier to incorporate your own style without compromising on quality standards," comments Ruban Selvanayagam of real estate valuation.
Are stainless steel appliances still popular? Yes.
The Houzz study reported that 3/4 of the respondents still planned to have stainless steel appliances. Their popularity continues, even though more homeowners are opening up to other styles and finishes. People like stainless steel. It matches every wood tone and finishes. Dark wood, light wood, and white cabinets all look good with stainless steel. The Ten most popular kitchens on Houzz for 2022 all had stainless-steel appliances.
Appliances with Other Metals
Most major manufacturers have been trying out many different metals over the last 5 years, trying to be the first to find that "next big thing". Think of Jen-air "oiled bronze", Whirlpool's "sunset bronze", Miele's "truffle brown", or Viking's "graphite". In the right kitchen, all of these finishes will look great. But none have really taken off like stainless steel…not yet.
Appliances with Mixed Metals
As the kitchen becomes more integrated, many homeowners are personalizing with greater boldness. As brass and gold have made a comeback, as well as bronze and other metals, there is less reason to stick with just one finish. Mixing metals, although it must be done carefully, is a growing option in design. In high-end homes, look for designers to play with metals more than in the past. "It's all good" is the motto.
Appliances with Satin and Matte Finishes
Appliances that have a satin or matte finish, whether in steel or other metals, are appearing in showrooms. Matte is used to describe something that lacks shine, so it looks more dull and flat. The appeal is two-fold, they are easier to keep clean, and they easily blend in with other finishes.
Related Reading: How to Keep Stainless Steel Appliances Clean
Black Stainless Steel
Black is an exciting newer color and finish that we're seeing more often. After using the KitchenAid black stainless appliances in the House Beautiful 2015 House Beautiful Kitchen of the Year, their popularity has increased. Now other manufacturers are making them, including LG and Samsung. One of the trends noted in the "Best Kitchen Trends for 2019" is a matte black finish.
Black is becoming popular in all rooms of the house, not just the kitchen. Black is the new Neutral in 2023. The PPG Porter Paints color of the year 2018 was a faded black called Black Flame.  A more elegant version of black, I think we'll be seeing it more in appliances.
Appliances with Matching Panels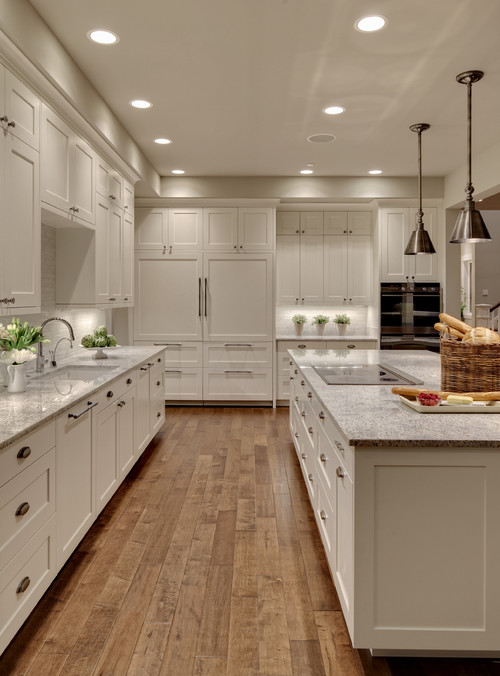 Since the kitchen is more integrated into the rest of the home in modern floor plans, adding panels to the appliances that match the cabinets is becoming popular.
The appliances are hidden behind, so other features of the kitchen can shine. This is a great way to create a focal point somewhere else.
This uniform look creates a less fussy style, which blends into the living spaces well. In the right home, this is the perfect solution to a more "livable" kitchen.
To Paint or Not to Paint?
Thinking about painting your kitchen cabinets? If you have good quality cabinets, painting can be a good way to update them inexpensively. Today's paint products and processes have come a long way. Check out (The Flooring Girl) Debbie Gartner's series of useful articles on the topic:
Colored Appliances
Smeg is one of the manufacturers who have come out with a lot of colors, from pastels to bright shades to black and white.
Colored appliances in an open kitchen add design and style that help it match the rest of the house. Viking has had a line of colored appliances for several years. They look great in a mid-century modern home, or eclectic, ultra-niche home. They are perfect for the homeowner who loves to have fun with their décor.
Slate Appliances
Slate appliances are on trend this year.
  GE is the first to make them. A matte slate finish is easy to keep clean and resists the dreaded fingerprints that make stainless steel difficult. Like stainless, slate matches any cabinet or countertop finish, and is style-neutral. The brushed stainless handles add a pop of shine, complimenting other appliances. [Kitchen by Southington Appliances Kathy from Connecticut Appliance]
White or Stainless Steel Appliances?
White appliances have gone out of style. Period. The popularity of so many other appliance finishes that I've mentioned here have made white appliances look dated in your home. If you are updating your appliances, please choose anything but white.
If you are getting ready to sell your home and are looking to buy new appliances to make your kitchen more appealing to buyers, purchase something that we've highlighted here. Put your old refrigerator in the basement or in the garage, or wherever you have room, as a second. If the new buyer sees it as a benefit, that's great. If they don't, you can always donate it.
Where to donate in Frederick Maryland? Peace and Plenty takes donated appliances.
What Appliances Should I Choose?
If you're asking are stainless steel appliances still popular…My opinion as a homeowner…choose what you like. You live with it. As with most things concerning the home, do your research and read all the pros and cons of each style and finish. Then choose what you will love to see and work with and clean every day.
Personal Story: When we sold our previous home, we had black appliances in the kitchen with white Shaker cabinets and white Corian counters. The home was a contemporary home with an open floor plan. The house had a lot of interest and no one had anything negative to say. It sold very quickly.

For our next appliance purchase, we bought a slate appliance package for our kitchen…I loved them! We had an open floor plan (you can see from the front door all the way to the back of the house where the kitchen is…they look beautiful.)

We just bought a home (2020) and our appliances are black. They look perfect in a mid-century modern kitchen. So, I don't really think that stainless-steel appliances are a must.
My opinion as a REALTOR®…it depends on your home. If you have a traditional home, choose something that goes with your traditional home's style. If you have a modern, contemporary, or mid-century modern home, choose what compliments it.
Of course, all this depends on whether you're considering selling soon, or if you plan to stay put for a while. The average life expectancy of appliances should be taken into consideration. If you're going to sell before your appliances wear out, then you'll want to keep resale in mind.
The average life expectancy of appliances:
Refrigerator – 9 – 14 years
Oven/ranges – electric: 13 – 15, gas: 15 – 17 years
Dishwashers – 7 – 10 years
If your home has a broad appeal, and if you want to appeal to the broadest group of buyers, the studies are still showing that stainless steel has the most popularity. Stainless appliances will be a safe choice for at least another 5 or 10 years. If you want to play it safe, choose stainless.
If you like to live bold…choose whatever your heart desires!
Karen's Kitchen Picks:
Related Articles:
Kitchen Remodeling and Decorating Trends for Homeowners
Increase Your Home's Value – Maintain and Repair
---
Looking for more great Real Estate Advice?
Check out the best real estate tips from the top real estate bloggers in North America, at the Reddit Real Estate Bloggers Group.
---
Search for homes in Frederick Md
Thinking about selling your home in Central Maryland? Use our free online valuation to instantly
Find out what your home is worth.
Contact the Highland Group for a personalized CMA – Comparative Market Analysis. 301-401-5119  
Need A Real Estate Agent in Your City? We Can Refer a Great Agent!
Pin for Later Reference: