Staging Your Home For Sale With Neutral Colors
"Paint Your Home in Neutrals" … Good advice when staging your home for sale. What is a neutral color palette when it comes to getting your home ready to sell? Before you get a mental picture of your entire home painted like the desert sand, consider the idea that "neutral" isn't limited to white and beige.
After consulting with home stagers for several years, I've picked up some basics about decorating a home to appeal to buyers. (what we call home staging is not the same as home decorating) The colors potential buyers see when they enter your home should be neutral so that they won't be distracted by your personal style. A potential buyer should be able to picture their own belongings in your home.
But that doesn't mean it has to be boring. Ideally, you want your home to be interesting.
A Neutral Color Palette in Home Staging 
Using neutrals can mean more than white and beige, there are many subtle colors that can enhance the look of a room, and thereby enhance the buyer's experience. Rich neutral hues can include many tinted soft colors, like these Valspar colors (Cozy White, Gentle Violet, and Holmes Cream):
A tinted neutral can add to the feel of a room in changing light.  When deciding on a color, be sure to test a small square and watch how the color changes throughout the day with the changing light.
Watch how the color plays on the colors of your current decorating themes. While you don't want to have to spend a fortune on new items, you also don't want to have a cacophony of colors and styles. Most people find that the secret is in editing their belongings, not buying new things.
You can paint the moldings the same color as the wall to add to the illusion of height. Or, you can use color to highlight the architectural details of your home. By painting the moldings a different shade, or a higher gloss, you can make them stand out.
A low-sheen paint will help hide imperfections in the drywall. The more glossy the paint, the more it stands out.
Style and Color in Home Staging
"Greige" is the New Black
Gray is a color that works well with modern decorating. Gray is clean, soothing, and appeals to both genders. According to color psychology, gray is the color of compromise and cooperation, an un-emotional color. It makes a great choice for a neutral shade when staging a contemporary space.
Which gray to choose?
There are many shades of gray. (no movie reference intended!) "Greige" leans to the taupe end of the spectrum, while "steel" tends toward the blue end. Some grays can look dingy, while others look crisp…it all has to do with the light in a room.
When we sold our house in Fall 2015, we chose a light gray to paint the living spaces. We had two skylights and floor to ceiling windows. The kitchen was also well lit and had a large pass-through to the living room, adding extra light. The floors were dark wood. I used orange and aqua as accent colors, which were trendy a the time.
Gray walls are perfect to add a pop of accent color
The gray had just enough pigment to contrast with the bright white gloss trim, yet not enough to darken the room. I got tons of compliments. It looked smashing! I wish I'd painted it this color while we lived there!
When we moved into our new house, which is in downtown Frederick, we painted the first floor the same color. Whoops! It had an entirely different effect! The house we're in now is pretty dark…no skylights and windows only on one side of the house. I won't put a picture here, because it looks like a dirty driveway. 😞 Light made all the difference.
Sunshine Infused Neutrals
Colors infused with yellow, the color that evokes cheerfulness and hope,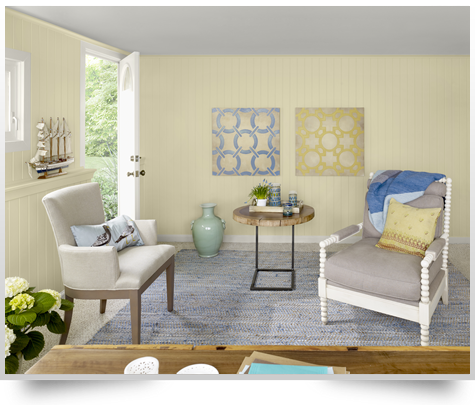 include:
Butter

Cream, Beige, and Barley

Lemon Sorbet —–>
Yellow can brighten up a room that doesn't have enough natural light. Like gray, the trick is discovering the undertone of the shade of yellow. Yellow can have a green or orange undertone that can be pleasant or terrible, depending on the surroundings. It can have a gold undertone that can be downright garish!
We recommend testing various shades of yellow on a wall and watching how the light changes throughout the day.
When it comes to yellow, subtle is best. You don't want to accidentally end up with something brash because the evening light plays a trick on you!

<—— This is Lemon Glow, by Benjamin Moore. It has a hint of green undertone, so it comes out really fresh in the right space. It will brighten up a dark space that lacks natural light. It will still make white trim pop, or even complement beige or off-white trim.
Sometimes a color choice might seem too risky. You can start with a neutral color and ask the store to tint it with the color you'd like to experiment with. Buy the smallest sample container and paint a 2 ft. by 2 ft. section in the middle of the room. Watch it for a few days and see if you're happy. If you're not, go back for more or less tint.
One of the great things about yellow is that it can look good in any home style, whether Colonial, Contemporary, Victorian, or Traditional. Yellow has been loved by every generation! Everyone gravitates to sunshine.
😍But look at this yummy yellow, French Vanilla:
Home Staging Trend: Bringing Nature Inside
[Traditional Dining Room by Little Rock Interior Designers & Decorators Cobblestone & Vine]
Green hues are great for bringing a bit of the natural world inside.  Most people respond to natural shades of green and blue positively. Blue and green hues are soothing and relaxing and are traditionally great for bedrooms.
Kitchens and Living Rooms can also benefit from a wash of green or blue. Sometimes a busy room can be calmed with the addition of blue or green-tinted neutral walls. A blue-green shade can evoke a coastal or beach aura in a room.
Shades of green come and go over the years. Does anyone remember Avocado appliances in the 1970s?? Oops, I'm dating myself. Then there was the mint of the '80s. (We had a family room with a vaulted ceiling in the '90s, which I rag-rolled emerald green!)
This dining room is a great example of a green-tinted neutral shade. With the wash of light from the large picture window, you don't have to worry about the green tint overshadowing the room. It complements the gold chandelier.
One staging trick that I particularly like is to bring the outdoors inside with plants. Whether they are real or fake, the addition of greenery adds so much life to a room, without committing to a permanent color on the walls. Grabbing a few potted plants from the big box store is a relatively inexpensive solution to add life to your staging.
What About Your Fixtures and Finishes?
Another consideration in choosing paint colors is whether the colors harmonize with your fixtures. If you have modern stainless or brushed aluminum toned light fixtures, faucets and door handles, you don't really have to worry much about paint color choices. This is probably why the finish is so popular, it goes with just about everything.
But if you have other metals, you want to harmonize, or even show them off. Consider the undertones of metal and get a shade of neutral paint with those undertones, or you might want to compliment with an opposite color on the color wheel. Here's a handy guide:
Polished and brushed brass have yellow or greenish undertones.
Antique gold fixtures feature brushed or polished finishes with a reddish-orange undertone that coordinates with different sets of color wheel opposites — or complements.
Gold contrasts with complimentary grays while going well with soft yellows.
Copper tones go well with browns and tans. They are complemented by cool shades like gray, blue and green.
Bronze is another story…there are so many types of bronze. Sometimes bronze can be a little "loud". You might want to tone it down with cool shades of blues or greens. You may want to complement it with a warm shade. Paint swatches are the trick!
Playing with Energy with Red Hues
Red hues bring up the energy in a room. But painting in all-out fire-engine red is not advised. Not very many rooms can handle this color, much less, buyers. But you can use a tinted neutral to bring energy to a room. These rooms use a bit of the color, creating a peach hue that plays with the natural light, adding to the drama and energy.
Classic Blue
I personally love blue. I think it is universal. The 2023  Valspar Color of the Year is Rising Tide. This color is easy to pair with almost everything. It looks great with just the right shade of warm gray. It looks crisp with any white or linen shade, cream or French Vanilla. It compliments green.  And it makes yellow pop.
Adding some pops of Classic Blue in your accessories will create a universal appeal to your home staging. Yes, blue can be a neutral!
2023 Color of the Year Choices
While we don't always recommend painting in trendy colors, it is a good idea to add some pops of colors that are on-trend throughout your home. You can add throw pillows to the couch, towels in the bath, accessories in the kitchen, etc. Sometimes, you can find a neutral shade in those trendy colors.
Consult a Professional Stager
If you're having trouble deciding how to stage your home in neutral shades that are still interesting and appealing, we recommend hiring a professional home stager. A home stager is trained and skilled in creating a palette, furniture arrangement, and decor that will show off your home in the best possible way. If you have problem areas a home stager can show you how to minimize the problems and accentuate the positives.
Additional Reading:
---
Find Out What Your Home is Worth (takes 15 seconds)
Need A Real Estate Agent in Your City? We Can Refer a Great Agent!
---
Chris Highland, Broker eXp Realty Maryland
Cell:  301-401-5119  Broker:  888-860-7369

---
Pin for Later Reading: https://www.pinterest.com/pin/4292562133190590/