Home Design for Pet Lovers
Let's face it… dogs and cats are a part of our family. We care for them and love them much like children. We discipline them and nurture them, and hopefully train them. When they leave us after a much too short life, we miss them. They leave a hole that most often gets filled with a new furry family member. So why not admit it and make room in our homes for these beloved fur children? Here are some great ideas for adding home design for pet lovers:
Feeding Stations
I can't count how many times I've tripped on the dog's water dish on my way through the kitchen, soaking my socks or slippers. I love these ideas for keeping the pet's dinner dishes out of the way.
Whether you have a drawer that can be pushed in after dinner is over, or whether you have a recess in the end of the cabinets, keeping the dishes out from under foot is brilliant. Some of these ideas can be retrofitted very easily in a kitchen.
And how about this idea in a clean, modern kitchen…
Keep Resale in Mind
Whether you are retrofitting, or designing from the start of the build, remember to keep resale in mind. Although pet lovers can't imagine life without the fur children, believe it or not, there are folks who don't have pets. Imagine! Remember in your designing, to keep your pet loving features as minimally invasive as possible. Any features that are designed for pets should be able to function easily for other purposes.
 I Love to Be Close to You
 We love having our dogs near, a part of our life and happenings. But sometimes, you just want them in another space. Either you have visitors who aren't as crazy about your furry family member as you are, or your pet just needs a little time out.
Here is a home detail for a dog-lover that will do the trick. The dog is in another room, but can still see you and feel like they're with you.
For the Feline Kids
I want to give equal time to the cat-lovers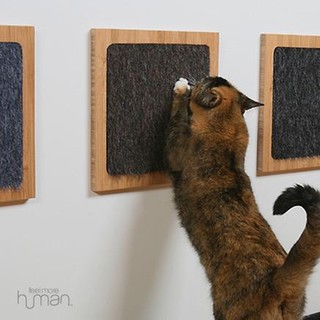 among us. A cat's need for play can be a fun part of your home design.
I love the way these cat scratching squares have been made into an item of decor, lining the wall at the right height, framed like art. I'm sure they save wear and tear on furniture and household items, as well as provide much needed scratching…and in style. You could even paint the squares to match your color scheme. Removing them is simply a matter of patching some nail holes.
Or how about these ideas to provide hiding places for the frisky times: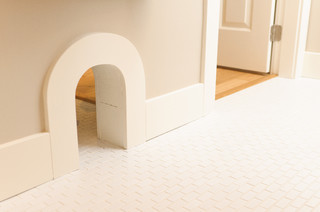 Peek-a-boo!
And this is my absolute favorite… adorable! And what a great use for what is most likely an antique porthole. I'm sure this is a much used hide-and-seek place.
These pictures were all found on
Houzz
. Check out their site for many more great ideas and products for the home, and more home design for pet lovers.