Let's face it dog-lovers…the fur children are part of the family. They need their space. Pet parent-homeowners have lots of options today with the latest home design trend – built in dog beds. Architects are coming up with some creative and tasteful plans to incorporate the fur child's bed into the cabinetry of the mud room, the laundry room or kitchen.
🐕Home Design Trend – Built-In Dog Beds
For all the pet lovers who also love their homes, there is a new design trend you will appreciate: Built-ins for your dog's bed.  Here are some beautiful images of the home-design trend – built-in dog beds from Houzz website:
Most dogs just love to be near their humans, but having them under your feet can be a nuisance, as well as dangerous. Wasted space can easily accommodate an out-of-the-way bed that is also near the family. There are many smart ways to incorporate your dog's digs into your everyday life.
🐶Built-In Dog Beds in the Laundry Room
These tile floors in a laundry room are great for a dog. This Los Angeles laundry room is equipped with a convenient cubby under the cabinet for Bubba. ♥ It is not only perfect for a pet, it's still smart for resale. If you ever wanted to sell your home, a potential buyer who doesn't have pets could easily use this space for other purposes. It would work well for recycling bins, any other storage ideas, or for laundry hampers.
This under-cabinet space in the white laundry room is certainly not under-foot. As a home design trend – built-in dog beds are a flexible and popular idea.
Giving the furry family member his own door makes the space under the stairs not only convenient, but able to be out of sight when you want it to. It also adds just a bit of architectural interest. It may even be a conversation starter at dinner!
These pet spaces can easily be ignored, or used for another purpose. Again, if the home is ever on the market, it isn't obtrusive. Any family with children will see this space as an instant play room. win-win!
Home improvements like these should never be so nuanced that they are a nuisance to potential buyers, if you should ever decide to sell your home.
🐾Other Built-In's to Accommodate Pets
What about further enhancements for pet owners? Here is a great idea for a dog-wash! Save the bathtub for the humans and save yourself from an aching back. The tiles can easily be stencled for a fun design touch.
This laundry room has it all covered, the built-in dog bed, which could easily be a cubby to hold a laundry basket, and the dog wash. Any future homeowner without pets would appreciate a place to wash off muddy boots or shoes, or sports equipment. A gardener would love this cleanup area. Garden equipment or boots can be stored in place of the dog bed.
The great thing about this laundry room dog wash is the height, which would save a lot of bending over to wash a large dog. It's large enough to be used to clean a lot of household items.
Feeding Stations
I can't count how many times I've tripped on the dog's water dish on my way through the kitchen, soaking my socks or slippers. I love these ideas for keeping the pet's dinner dishes out of the way.
Whether you have a drawer that can be pushed in after dinner is over, or whether you have a recess in the end of the cabinets, keeping the dishes out from under foot is brilliant. Some of these ideas can be retrofitted very easily in a kitchen.
And how about this idea in a clean, modern kitchen…
Keep Resale in Mind
Whether you are retrofitting, or designing from the start of the build, remember to keep resale in mind. Although pet lovers can't imagine life without the fur children, believe it or not, there are folks who don't have pets. Imagine! Remember in your designing, to keep your pet loving features as minimally invasive as possible. Any features that are designed for pets should be able to function easily for other purposes.
 Pets Want to Be Close
 We love having our dogs near, a part of our life and happenings. But sometimes, you just want them in another space. Either you have visitors who aren't as crazy about your furry family member as you are, or your pet just needs a little time out.
Here is a home detail for a dog-lover that will do the trick. The dog is in another room, but can still see you and feel like they're with you.
For the Feline Kids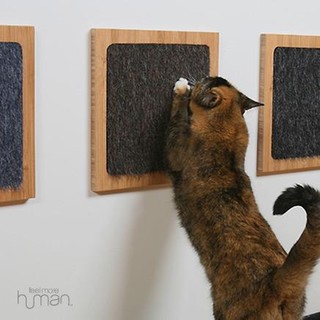 I want to give equal time to the cat-lovers among us. A cat's need for play can be a fun part of your home design.
I love the way these cat scratching squares have been made into an item of decor, lining the wall at the right height, framed like art. I'm sure they save wear and tear on furniture and household items, as well as provide much needed scratching…and in style. You could even paint the squares to match your color scheme. Removing them is simply a matter of patching some nail holes.
Or how about these ideas to provide hiding places for the frisky times: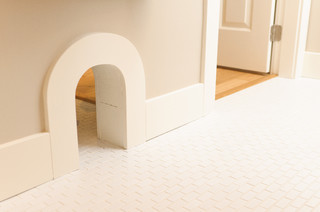 And this is my absolute favorite… adorable! And what a great use for what is most likely an antique porthole. I'm sure this is a much used hide-and-seek place.
🐩 Additional Articles for Pet-Lovers:
Check out
Houzz
for more Real Estate design tips like the home design trend – built-in dog beds.
Chris Highland 
eXp Realty
Frederick, Md 21701
TEXT US: 301-401-5119
🖼Enjoy Some Pet Art
I've added some adorable Pet Art from some talented artists on Sketchport. (A wonderful site to support budding artists) Enjoy!
Find Out What Your Home is Worth (takes 15 seconds)
Need A Real Estate Agent in Your City? We Can Refer a Great Agent!
---
Chris Highland, Broker eXp Realty Maryland
Cell:  301-401-5119  Broker:  888-860-7369