When should I sell my Frederick home?
…
In many ways the real estate market has seen a recovery in many areas throughout the country. Real estate sales have been up in volume and numbers for a few years. Interest rates have remained favorable, in spite of slight upticks, and rumors of more to come. Home values have been increasing locally at a healthy pace since 2014. Still, many sellers have been unable to sell because of lack of equity, and are waiting for some appreciation to allow them to sell. This "pent-up" market may take a little more time to see the amount of appreciation needed. Could 2019 be the right time to sell your home?
Frederick Market Trends in 2019
The real estate market in Frederick Maryland has turned the corner. After four years of price improvements and increased sales, the Spring of 2019 is turning out to be a promising market. We're seeing an early spring market, with the best homes (priced well and in good condition) going under contract in days, many with multiple offers. The Frederick real estate statistics show this increased demand in the number of contracts signed last month.
With inventory still very low, and increased demand, we think sellers can be confident that their house will likely sell… given it is in good condition and the price is in the correct range. Yes, supply and demand are still the number one determiner of the local real estate market, but homes that need work tend to stay on the market longer and do not fetch top dollar. Most buyers today want "move-in ready".
The market is recovering; at this time we are seeing values in many neighborhoods increasing over last year. The increase is between 3% and 5%, depending on many factors, like the neighborhood, the price range, and the comparative activity. Homes priced under $400,000 have been appreciating faster than homes priced $400,000 and up, county-wide. Homes in the upper price ranges, $600,000 and up, not so much appreciation, and the time on market is much longer…there just isn't that much demand.
Why? Well, that's another discussion.
---
---
Even in a small market like Frederick Maryland, different neighborhoods have different market trends. The only way to really understand what your home is worth is to have a Comparative Market Analysis.
---
Forecasts for the Real Estate Market in 2019 and 2020
Of course, none of us has a crystal ball. Many real estate forecasts that I've read over the last 2 years have not come true, some have…it's always a guess. Nowadays, all aspects of real estate are more complicated. Interest rates are affected by global issues. Demand is affected by local economic issues, as always, but also by the overall economic outlook. Consumer confidence (which was up in February) is measured to the nano-second.
We have more data than we've ever had in the history of human kind. It's a lot to sift through and make sense of. Doing a Google search will give you the opinions of some of the brightest minds…and they'll all say something different. sigh.
What we DO know About the 2019 Real Estate Market:
Interest rates are still historically low. See today's mortgage rates. Rates have been bouncing around the mid-4's to low-5's and back for a while. Considering the historical average mortgage rate is somewhere around 8%, these are still low rates.
We have had a shortage of inventory in Frederick, but healthy demand, which have resulted (along with other factors) in a healthy appreciation over the last few years. This increase in values has been at a normal, healthy pace, not at all like the ramp up of the last decade, which was largely lost between 2009 and 2014.
There are still many areas of Frederick County that have not recovered to the home values of 2006, the height of the previous market before the crash. We're close, but not there yet.
Demand is strong already this year…we're already seeing multiple offers, increased foot traffic at open houses, and an increase in mortgage inquiries.
We do know that in certain upper price ranges and locations, the demand is weak. This will certainly affect home sellers in that particular price bracket. Your time on market will most likely be longer, and your price expectations will most likely have to adjust accordingly.
What We DON'T Know About the 2019 Real Estate Market:
Will rates rise this year? 🤷 We have had signals from the Fed that they have plans to raise the base rate, then we've had signals that they won't. We have no idea.
Will home values continue to rise? 🤷 We think they will in 2019, although not at the same pace they did in 2017 and the first part of 2019. But it's just an opinion.
If mortgage rates do rise, of course, that means the cost of a home purchase increases. Spending power decreases. The would-be home-owner who can afford your home this year may not be able to afford your home next year if the interest rates rise. That's always been the case when a homeowner is weighing the pros and cons of selling this year or waiting.
Understanding Mortgage Rates:
A Note from Investopia on Mortgage Rates: The higher the inflation rate, the more interest rates are likely to rise. This occurs because lenders will demand higher interest rates as compensation for the decrease in purchasing power of the money they will be repaid in the future. The government has a say in how interest rates are affected.
How Are Interest Rates Determined?
Interest rates are basically determined by three things:
The Federal Reserve sets the federal funds rate. That affects short-term and variable interest rates.
The second thing is investor demand for U.S. Treasury notes and bonds. That affects long-term and fixed interest rates.
The banking industry offers mortgages with varying interest rates depending on several things. For example, a lender may add overlays on interest rates as they perceive increased risk. Interest rates vary with loan products, with borrower credit scores, with down-payment, and many other things.

The Mortgage Rates Puzzle, In-Depth information from Colin Robertson

Read more at The Truth About Mortgage
So, here's how you determine the right time to sell:
What's your equity situation? You'll need enough equity to cover the costs of selling, and the costs of purchasing your next nest. (you'll need a rough estimate first, then if you're serious, a Comparative Market Analysis…see above)
What is the Demand for your home, as well as you can tell? (consult a local real estate professional)
What's the condition of your home? If you need some sprucing up, do you have the time, money and energy to accomplish it? If you want top dollar, it's got to be done. (see above)
What's your desire quotient? Are you ready to move on? It can be up-sizing, right-sizing, down-sizing…it doesn't matter. How motivated are you to make a move?
If all these factors are a go…then it's really a lifestyle decision. What do you want the next five to seven…or perhaps more…years of your life to look like when it comes to your home? Only you can determine what that is.
Selling a home is an endeavor that interrupts your life. Make sure that it's the right time for you.
---
If you like to read what the prognosticators are saying: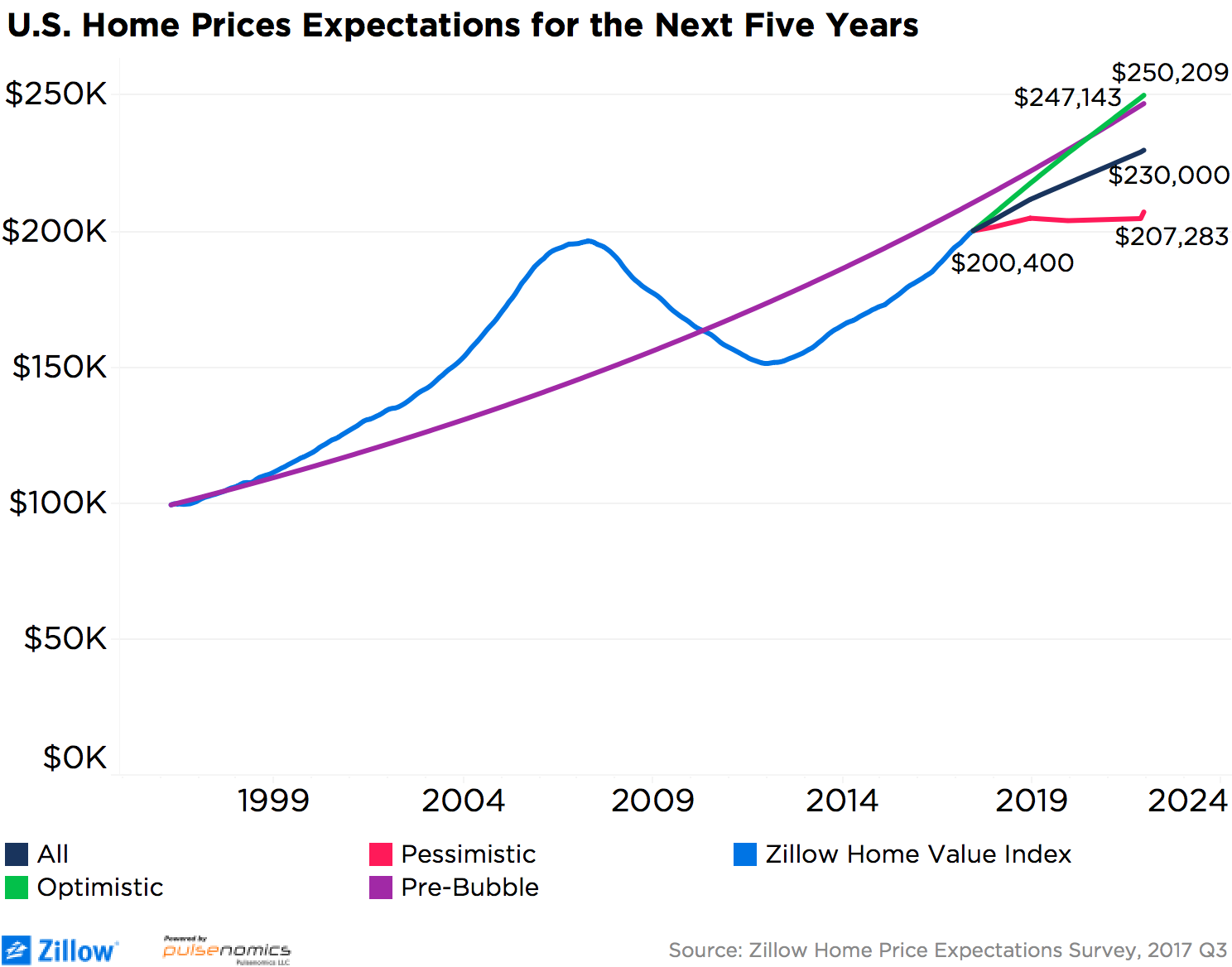 ---
Need A Real Estate Agent in Your City? We Can Refer a Great Agent!