Tank or Tankless Water Heaters?
Tankless water heaters (or on-demand water heaters) provide hot water when and where it's needed without the need for a storage tank. Is a tankless water heater the right choice for your home?
They're not new, they have been available for years and have been more popular in Europe than in the U.S. Tankless systems can be powered by electricity, gas, or propane and may decrease water-heating bills by ten to twenty percent. The savings occur because heated water does not sit unused in a tank.
Whether you just bought a new home, or if you are considering listing your home for sale soon, or even staying put for a while, the question of home maintenance and improvement is important. A wise homeowner is always thinking about home improvement return on investment, as well as personal enjoyment.
How Does a Tankless Water Heater Work?
In a tankless system, water is warmed only when needed. Tankless water systems also save space because they can often fit in a closet or under a sink. The size of the system will be determined by how much demand is placed on it.
Demand is calculated by estimating how much hot water a family will use during its busiest hour. This figure is called "first hour rating."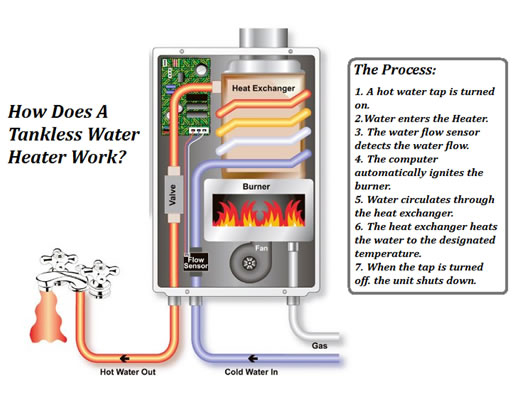 It is determined by factoring in the number of bathrooms and bedrooms in a home, as well as the number of people living in it. A home with 2 1/2 bathrooms, 3 to 4 bedrooms and 4 or more people sharing the home will have a "first hour rating" of 60 to 72.
Then match the home's "first hour rating" to the same rating on the EnergyGuide of the hot water heating system.
How to Choose a Tankless Water Heater
The EnergyGuide is a large yellow sticker that, by law, must appear on water heaters and other appliances. On hot water heaters, the sticker will compare the average yearly operating costs of different water heaters, using the same criteria for all models tested. It will enumerate the system that will cost the least to run. The highest savings will come when choosing a model with a "first hour rating" closest to the capacity needed.
Look for a large number in the center of the EnergyGuide, the estimated cost of energy needed to operate the water heater for one year. EnergyGuide labels are designed to make comparison shopping easier.
A tankless water heater can supplement a regular water heater in a distant location, or it can be used for all hot water needs in the home. But it may not be appropriate for all applications. In some cases, the savings in energy and money may be negligible.
You'll need to determine the How much hot water your household uses, determine the temperature rise you'll need, and the number of water heaters you'll need. You'll also need a qualified plumber to install your tankless water heater(s).  Be sure to buy from a knowledgeable and reputable dealer who can walk you through the calculations.
Another piece of good advice: Don't try to save money by purchasing a smaller heater when you really need a larger one.
What is Better – a gas or electric water heater?
For tankless water heaters as well as traditional ones, gas-fired heaters are typically cheaper to operate, although they cost more upfront. This also depends on your local utility costs.
Some residential-sized, gas-fired models currently on the market supply only five gallons of water heated by 90 degrees per minute, which may be serviceable for a family of two. It might not satisfy the needs of a larger group doing laundry and washing dishes at the same time.
And electrically heated models provide even less hot water than gas models – more like two gallons a minute, heated 70 degrees. If the power goes out, take your hot shower within a few hours, because the tank will stay warm only for a short time. After that, the electronic model will provide an unsatisfactory "no more" hot water, which is another factor to keep in mind.
In most cases, electric tankless water heaters will cost more to operate than gas tankless water heaters.
What are the Advantages of Having a Tankless Water Heater
Tankless water heaters generally use between 24- and 34-percent less energy than traditional water heaters. The more people in a family, the more taxing the hot water needs and the less money saved. That's why people often buy more than one tankless water heater. The more spent, the less the savings.
Another benefit of a tankless system is length of equipment life. It is typically longer than tank-type heaters because they are less subject to corrosion. Tankless water heaters have a life expectancy of about is 20 years, compared to 10 to 15 years for tank-type water heaters.
They typically come with a longer warranty than traditional water heaters. This is probably because you don't have the break-downs with tankless water heaters because they aren't in use as much.
Tankless water heaters range in price from $200 for a small under-sink unit up to $3000 for a gas-fired unit that delivers 5 gallons per minute. Typically, the more hot water the unit produces, the higher the cost.
When considering whether a tankless water heater is the right choice, there are lifestyle considerations as well as monetary considerations. Many homeowners who have opted for tankless water heaters (ourselves, for instance) like having instant hot water, and LOVE never running out of hot water.
Another advantage to homeowners who are tight on space – tankless water heaters are compact and save space in your home. If you need more than one, it's not difficult to fit another tankless water heater in a closet or basement, as long as you can maneuver a nearby water source.
Tax Breaks and Rebates for Tankless Water Heating Systems
A tax credit is available for energy efficient tankless systems. Be sure to check for State tax credits for energy-efficient appliances and renovations.
There are often rebates from the various brands, so be sure to check. Currently Rinnai is offering $100 rebates for certain energy-saving Rinnai Propane-fired products. They also have partnered with energy companies in Maryland, offereing up to $700 in rebates.
For Frederick Maryland Residents, Allegheny Power has a rebate program for energy efficient appliances. Baltimore Gas & Electric Company, Choptank Electric Cooperative, and Pepco also have a rebate program, and most counties have programs.
Visit www.energystar.gov for more details.
Solar Powered Water Heaters
**FYI – Solar Water Heaters have a tax credit that is in place until 2020.
The following Residential Clean Energy Tax Credit amounts apply for the prescribed periods:
30% for property placed in service after December 31, 2016, and before January 1, 2020
26% for property placed in service after December 31, 2019, and before January 1, 2022
30% for property placed in service after December 31, 2021, and before January 1, 2033
26% for property placed in service after December 31, 2032, and before January 1, 2034
22% for property placed in service after December 31, 2033, and before January 1, 2035
Whole house systems are also tax deductible. Read more details about tax credits available to consumers at Build Back Better.
Is a Tankless Water Heater Worth It?
The U.S. Department of Energy estimates tankless heaters save an average household between $400 and $600 a year in energy costs per year over their traditional tank counterparts. Water heating is the 2nd largest energy expense in the home. Keep in mind that the average home uses 64 gallons of water each day. Your household many or may not be average.
Recommended Reading: Pros and Cons of Tankless Water Heaters
Homes that use less than the average amount of water, up to 40 gallons, will save more on water heating costs, while homes that use more will save less. Tankless water heaters make more sense for smaller households, in general.
Gas or propane fueled tankless heaters will generally save more than electric tankless heaters, how much depends on local fuel costs.
When calculating the actual costs, keep in mind that tankless models cost a bit more to install. While the average tankless water heater can cost up to three times that of a traditional water heater, they also last roughly twice as long.
You can amortize the cost vs. savings over the estimated 20+ years you will own the water heater and see if it is truly an advantage.
As well as the cost, there is the added advantage of not running out of hot water. Some homeowners put a value on that convenient benefit that equals the cost savings.
If you don't have the choice of gas or propane, you will not save as much with electricity. Consider too, the capabilities of your home's electric system to handle the hot water heater. You may need to upgrade the electric system on an older home, which will cost an additional amount.
You'll also want to consider the amount of time you'll be staying in your home. If you plan to sell your home in 10 years, you won't really recoup the expense of the tankless water heater.
Does a tankless water heater add value to your home?
In and of itself, a tankless water heater doesn't add value to a home.
Don't count on getting a higher offer on your home because you have one. These kinds of investments don't typically directly pay off dollar for dollar at resale.
These investments can, however, make your home more appealing than the competition when you are selling. More and more home buyers are concerned about environmental- and money-saving home features.
If, however, you have a combination of money saving, and  "Smart Home" features, times are changing. Appraisers are starting to add value for certain upgrades.
While we don't have  crystal ball, it seems that energy savings and environmentally friendly home features, as well as smart-home features are only increasing in demand. It stands to reason that future home buyers will place more value on these features when comparing homes that they are considering.
If you have added any smart-home, money-saving, or environmentally friendly features, be sure to publicize them when you are selling your home! Even if they don't add real monetary value, they definitely add marketing value.
This is our tankless hot water heater to the right. =>
There are only two of us now, (empty nesters, woohoo!) and we've been really pleased with it. The truth is, actually, we're spoiled! We love instant hot water.
We do, however, have to time our hot water use. We don't wash dishes when someone is taking a shower, or doing a load of laundry. It's not really difficult to manage one hot-water task at a time, though.
Other Ways to Save Money on Hot Water
Lower the temperature on your hot water heater to 120°. According to the energy.gov website, for every 10° you lower your hot water you save 3% to 5% on your heating costs.
Take short showers, or have a water cut-off attachment to your shower head.
Don't let the water run when you are brushing your teeth, washing your face, washing dishes, etc.
Fix leaks. Dripping faucets are one of the most costly water wasters in a home.
Insulate Pipes.
Wash your clothes in cold water.
Buy water-saving appliances: Energy-star clothes washers can save $135 a year, energy-star dishwashers use 30% or more less water.
For more money-saving tips, see the Department of Energy Website.
Thanks for this informative guest post from:
David Goldberg –  Home Inspector
phone: 301-913-9213 
fax:  301-774-4554 
Reliable Home Services, Inc.
PO Box 5159
Laytonsville, MD 20882
ASHI Member #101584
MD License #29322
If You have a remodeling project in mind, contact us for a list of professionals we're proud to recommend.