New Home Construction Resumes in Frederick Md
There are some new residential building projects underway, after a few years of a very slow market for new homes. It seems that housing development is returning to Frederick County. New home construction in Frederick Md is reaching levels we haven't seen in several years.
---
---
Westview South
More than 500 homes are in the plans at Westview South, a new community coming from Mitchell & Best Home Builders, a Rockville Maryland company. Located on Buckeystown Pike, near New Design Road, south of Westview Mall. The community will be a mix of three- and four-level town houses, condominiums and houses, with prices ranging from  the low $300,000's to mid-$400,000's.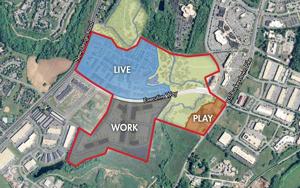 There are 518 approved homes – 122 single-family homes, 178 townhouses and 218 Condos. Construction will begin soon, with models open in the Spring. The homes are not in the city limits, so no city taxes. The community will include a clubhouse and a swimming pool.
Canterbury Station in Frederick City
The future development of as many 300 units can be seen from East Street, and 16th Street. In late 2007, the first stage of a development of 546 homes was partially approved, called Canterbury Station. This phase was to be 144 homes, including townhouses, single-family homes and condominiums.
Two years ago Millennium Resource Engineering finalized the subdivision plat with the City of Frederick, according to city records. The builder is Parkwood Homes.
It appears that Canterbury Station will extend from Fredericktowne Park, around to the area behind Northampton Manor Health Care Facility, possibly as far as the area behind The Banner School. The public schools in the area are North Frederick Elementary, Governor Thomas Johnson Middle School, and Governor Thomas Johnson High School.
As the east side of the City of Frederick starts to see growth and investment, we expect more communities to be developed. The opening of the long-awaited Monocacy Blvd. will allow for more growth.
Live-Work-Play Development
There are a number of proposed developments in Frederick County that follow the live-work-play concept…that people want to live where they work and socialize, much like life in downtown Frederick.
Ausherman Properties has a plan for luxury apartments at Kemp Hall, which is downtown at 2 E. Church Street. Above The Candy Kitchen there is a huge space in the historic building for several luxury residences.
Worman's Mill is still building Villa's. After years of building that community they are in the process of adding The Village Center. It will be a mixed use area with restaurants, retail and apartments on the second floor. They have plans for an assisted-living facility.
New Home Construction Frederick Md
Given the inventory shortage we are experiencing in Frederick Md, new development is seen by most in the real estate industry as a good thing. The housing inventory is currently very LOW. The inventory is very tight, with the best homes going under contract in days. New homes are filling in the demand. New home construction is taking place in many communities throughout Frederick County. In the City of Frederick:
New Construction in Zip Code 21704
New Construction in Zip Code 21703
New Construction in Zip Code 21702
New Construction in Zip Code 21701
Buyer Representation for New Homes
Did you know, when purchasing new home construction, buyers can have their own buyer representation? The real estate agent at the builder's model home is the seller's agent for the builder, representing the interest of the builder.
As a buyer, there are advantages to having your own buyer's agent to represent your interests. Most builders, but not all, have built-in costs that cover the Realtor's commission.
In most cases, the cost to the buyer is zero, so why not have representation?
Realtors who have experience with new construction know the questions to ask along all the phases of the build.
The buyer's agent can help you interpret and understand the contract.
The Realtor can do a non-biased market analysis, one important and often overlooked item in new construction. Tip: Someone purchasing new construction needs to be dedicated to staying in the neighborhood for 2-4 years after the builder closes out, especially if the new buyer only puts 10% or less down.  The builder basically controls the value of the home until the neighborhood is closed out.
Many things are negotiable, whether the builder offers or not. Using an experienced buyer's agent can be a benefit in any negotiations. Agents negotiate every day as a part of their job. How often do home buyers engage in negotiations?
Market conditions greatly dictate a builder's incentive to make deals. A buyer's agent can help you know when market conditions are right for these benefits.
Additional Resources
Great Questions to Ask When Buying New Construction, by Jeff Nelson of IXL Real Estate – Eastern Shore, Alabama
The Benefits of Buying New Construction, via Chris Highland
Why Have a Buyer's Agent When Buying New Construction – by Bill Gassett, Metrowest Massachusetts Realtor®
Different States, Different Laws
In Maryland, laws concerning real estate licensing require that sales agents for new home builders have a Maryland real estate license, as of Oct. 1, 2007. (There are some exemptions for custom home builders.) Maryland is a consumer advocacy state. Issues of Agency Representation are there to protect consumers in Maryland, one of the first states to enact real estate agency laws in the early 90's.
If you choose to work with a buyer's agent on a new construction home, make sure your agent is experienced and will work for you. Now and then we hear of agents who did nothing but pick up a check, make sure your agent is not one of them.
Contact Chris Highland for buyer's agency on new home construction Frederick Md: 301-401-5119 – Cell
Summary
Article Name
New Home Construction in Frederick Md
Description
There are some new residential building projects underway, after a few years of a very slow market for new homes. It seems that housing development is returning. See the newest communities:
Author
Publisher
The Highland Group - with eXp Realty
Image