Tree Houses Are Not Just for the Kids Anymore
What child hasn't tried to build a fort or a tree house — sometimes to the chagrin of hovering parents? Today there is no need to let those tree house fantasies go unfilled. The popularity of tree houses for the grown ups is on the rise. Here's a "just for fun" article about Tree Houses, thanks to our home inspector, David Goldberg, Reliable Home Inspections.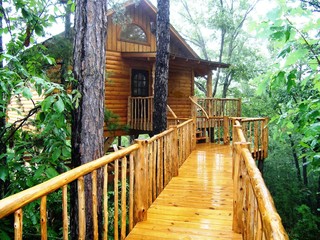 Tree houses for the grown-ups are showing up all over the world, as adventurers seize the opportunities to visit, stay in, and perhaps even build a tree house. Sizable, well-appointed, and fully functional tree houses are being built across the United States, as well as other countries.
What Makes A Tree House?
Eclectic Garage And Shed by 
San Francisco Photographers
Alex Amend Photography
What defines a tree house? A small house, especially one for children to play in, built in the branches of a tree. Or, currently, a permanent structure — a house, office, studio or retreat set in the branches of a tree or trees.
Throughout history tribes or other communal groups built tree houses for a variety of reasons, including safety and weather conditions. Depending on geographical area, tree houses met many needs of the community, including safety and communal gathering.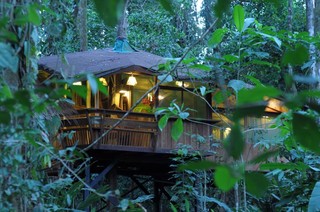 Tree Houses for Grown-Up Endeavors
Today, some people choose tree houses to be more eco-responsible, as a means of connecting with nature, to retreat, for fun and adventure. Affordability has made them more popular for families to create a "vacation" spot in their own backyard.
Many homeowners opt for building a tree house on their property when they need extra space. For instance, a studio, shop, or home office is a great use for a tree house. It's away from the main house for privacy, and often offers inspiration from the surrounding nature.
Additionally, when it is not possible or not desirable to add on to a home, a tree house can fit the need for more living space. A tree house makes a great guest house, or an inviting family room when relatives visit. What grandchild wouldn't love hanging out in the tree house!
Tree House Resorts
Tree house resorts abound around the world, and in fact, a tree house community has been established in Costa Rica. The community, Finca Bellavista offers vacations, fractional ownership, and even an invitation to become a part of this planned residential community.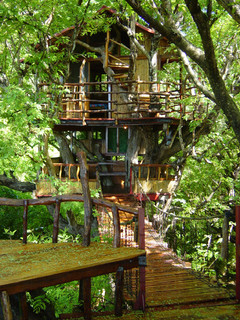 Tree house resorts include Brazil's Ariau Amazon Towers Hotel; The Costa Rica Tree House Lodge, which features a full kitchen and luxurious bathroom built around a gnarled 100-year-old Sangrillo Tree; South Africa's Tsala Treetop Lodge; or, closer to home, the Out'n'About Treehouse Treesort, a sprawling 36-acre wonderland in Oregon.
When it comes to creating tree homes in the United States, one company in Fall City Washington is popular. Nelson Treehouse and Supply offers construction and consulting services for tree house hopefuls. Some of Pete Nelson's past constructions can be found in Washington, California, Pennsylvania, New York and Texas, to name a few. Nelson's newest venture is host of the reality TV show "Tree House Masters."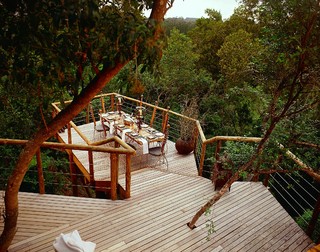 In some of the Tree House Workshop's more memorable tree houses, owners have the benefit of features including turrets, covered porches, hand-built windows, towers, crows' nests, rope bridges, skylights and fireplaces.
Typically, Nelson and the other tree house carpenters build approximately 10 to 15 tree houses a year.  The average project cost starts at around $65,000 on the lower end and up to $330,000-plus for top-of-the-line models. (Smaller tree house projects cost much less.)
Tree houses can take a relatively short time to build. Most tree houses take a few weeks to a few months to complete and are built mostly with reclaimed wood and recycled materials.